MAKE ART WHERE YOU LIVE
Though my day job is all about corporate video production for technology companies, I like to think I'm an artist at heart. And while there's clearly an art to making great marketing films, web videos, event openers, and broadcast ads, I have a great appreciation for the sculptor who pounds against a stone until a figure emerges, or a painter who pours their soul onto a canvas in search of abstract truth.
So last week, as I was taking care of a Silicon Valley customer's need for video production in Sao Paolo, Brazil, I was delighted to discover that this sprawling metropolis is home to an intense and vibrant subculture of street art. What makes street art special to me is its accessibility: this is almost the antithesis of "museum art" by simple virtue of its integration into the landscape, and its potential for interactivity – the way it transforms an urban space and is itself transformed by successive visits by other creative contributors.
Yes, just so we're clear, to some extent I am talking about "graffiti" here… or at least occasionally unauthorized re-appropriation of local canvas. I'll point out that I'm not even remotely impressed when someone paints "f**k" in big letters across a wall, or goes from building to building planting their tag across a neighborhood to impress their friends. That's just destructive, childish nonsense. And just like in San Francisco, I saw plenty of work that did not earn the label "Art". But much of the work I saw was clearly an intentional part of the decor,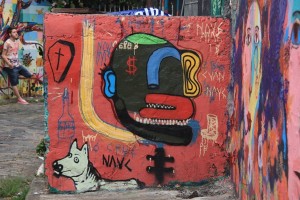 added by building owners or neighborhood residents with the idea of clarifying and expressing just who they are.
And that spoke to me, as a visitor, letting me know that these people had a vision for their world and were determined to share it.
So no, my trip to Brazil didn't involve a stop at the Museu de Arte de São Paulo, or the Pinacoteca do Estado – that's just the nature of business travel, I guess. But I did leave feeling like I got a glimpse of the people who live there. Enjoy!
---
---